Religious Education
St Edmund's Vision
At St Edmund's God is central and in our hearts helping us to communicate through our words and actions.
All children at St Edmund's are able to talk about the beliefs and values held by the Catholic Church.
We ensure all children become valued members of the community, they are taught to use their teaching of Jesus to respect the beliefs and values of others.
Every child no matter what their ability is able to achieve to their very best.
The Church has always promoted education. God made the world, and everything and everybody in it; and the more we understand the world, its history, and our place in it as human beings, the better equipped we are to increase our faith and hope in God, our love for God and our neighbour, and our love for the Church on earth, in and through which God invites us all to come to know, love and serve him.
Religious Education Curriculum Expectations at St Edmund's
All Year Groups:
To deliver the RECD objectives for the relevant age group through following Come and See.

To cover 2 CARITAS Catholic Social Teaching themes within an academic year which are outlined on the school's long

term planner.
To plan and deliver 1/2 other faiths themes across the year using planning from Come and See.

To plan and deliver a universal Church theme using CAFOD resources.
KS1: To plan on a 2 yearly rolling programme to cover all content from the Years 1 and 2 Come and See programmes.
LKS2: To plan on a 2 yearly rolling programme to cover the content from both years 3 and 4 come and See programmes.
UPKS2: To plan on a 2 yearly rolling programme to cover the content from both years 5 and 6 come and See programmes.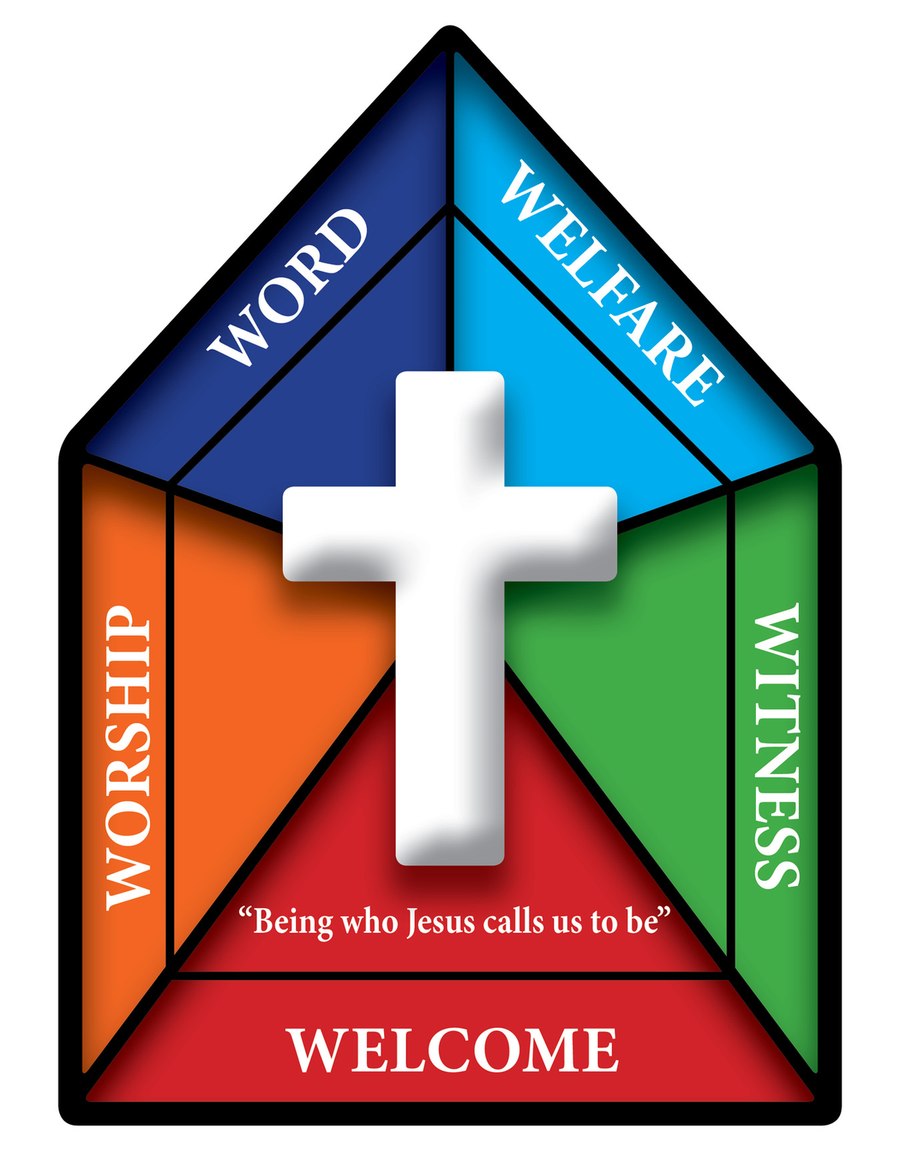 Palm Sunday Mass
The children who are preparing for their First Holy Communion led a Palm Sunday Mass in Church with Fr John. The whole school, virtually took part in the Mass in Holy Week.
The 5 W's signs have been tailored for Catholics Schools.
These signs are the ideal way of promoting the 5 W's within classrooms and the whole school community. Children are encouraged to place photographs of their peers within the sections and can then share why they have chosen to do so. Some schools have decided to focus on one W per week and give certificates in the whole school assembly.
The children and staff feel they have a much better understanding of the meaning of each W. It enables them to talk with a shared understanding.
Welcome, Word, Witness, Welfare, Worship. In student speak, these translate as come, talk, work, walk, pray.
Welcome [come] – come together in welcome.
Word [talk] – talk together as a word of God's community.
Witness [work] – We look at our School mission statement and work together as a witness community.
Welfare [walk] – Walk together as a welfare community.
Worship [pray] – We pray together as a worship community.
Stations of The Cross
The children from LKS2 re-enacted the Stations of the Cross. Each Station included time to reflect, pray and act.
Advent Prayer Stations
The children in LKS2 enjoyed a morning of prayer and worship visiting Advent Stations. The children were able to reflect on their journey of the past year and pray what they hope for in our world, knowing Jesus will shine his light to be with us every step of the way.
Prayer and Meditation
During the month of October, prayerful meditation time in class was dedicated to praying the Rosary.
Advent Collective Worship
During Advent, The GIFT team planned and delivered virtual Advent collective worship assemblies for the whole school. Each week they focused on a different theme of hope, peace and joy. The children were then set a task for them to complete to help reflect on the theme.
Big Questions
Holy Week Prayer Stations
During Holy week, the children visited interactive prayer stations where the children experienced the last day's of Jesus' life on earth.
Holy Rosary
The month of October is dedicated to the Holy Rosary. The children in Nursery worked together to make a class set of Rosary beads which the then used in daily prayer time.
Palm Sunday
The children listened to the Bible story of Jesus' triumphant journey into Jerusalem. The children then responded to what they had been taught by re-enacting this joyful story.
Advent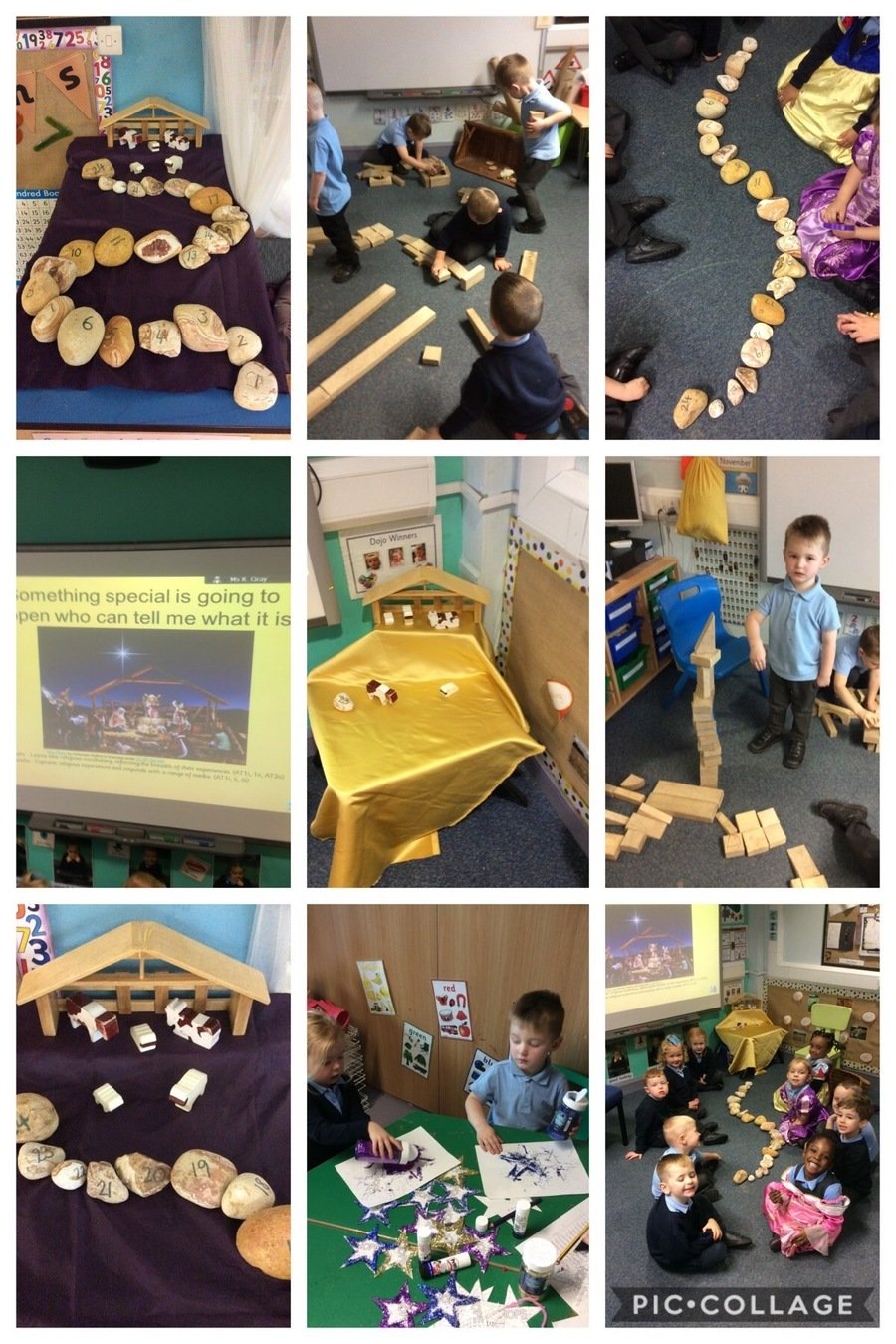 The children in Nursery prepared for advent by creating an advent pathway to the stable. This was help them to count down the days to Christmas. In the construction area, the children enjoyed making stables ready to celebrate the birth of Jesus
Key Worker Evidence Books
The children in Nursery and Reception record their Religion work in floor books. In their floor books, there is evidence of how the children celebrate the Liturgical Year as well as work relating to 'The Come and See' themes they follow throughout the year.
The Nursery children loved painting the canvas linked to Peace Day. The children also had their hands painted to make Dove'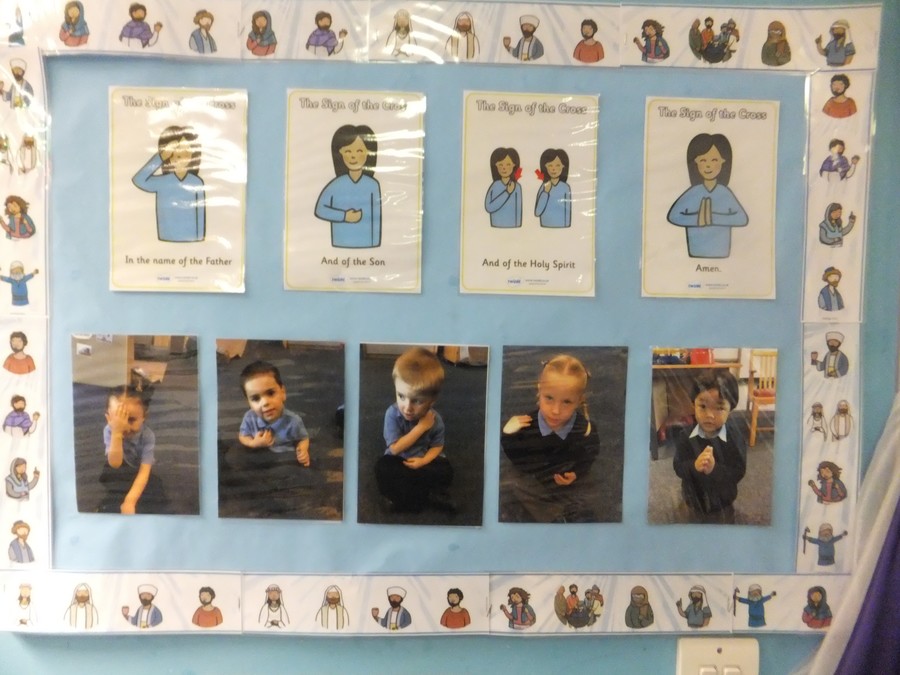 How to perform the Sign of the Cross.
Nursery Class
Big Questions
Lent
In KS1, the children enjoyed various sessions and activities that were part of their Lent journey this year. They loved creating and caring for our Easter Gardens.
Advent Prayer Stations
Year 1/2 enjoyed moving through their advent stations. Each station made them stop and think about Christmas! The children loved all the activities at each station and had time to reflect at a busy time of year.
Holy Week Prayer Stations
KS1 enjoyed embarking on their Holy Week journey by travelling to different stations which taught them about Jesus' life before he was crucified. They had a wonderful time and reflected on the true meaning of Easter.
Children's Religion Books
During October the children in KS1 learnt how to pray The Rosary.
Examples of the CARITAS unit of work 'The Poor and the Vulnerable' is shown where children explored thoughts and feelings.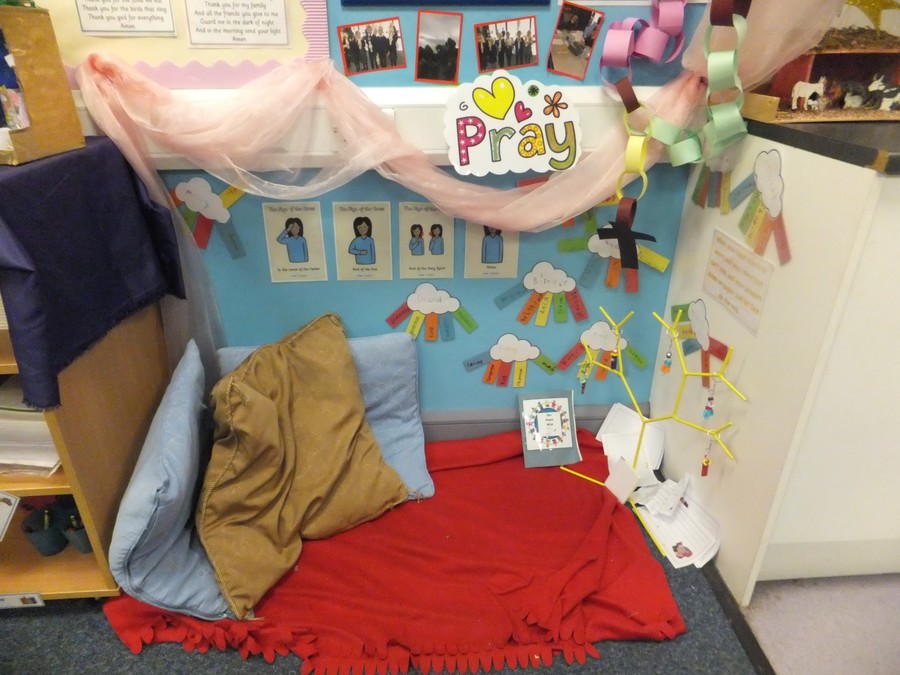 Prayer and refection area
Year 2S
Holy Week Prayer Stations
LKS2, started their Holy Week journey through participating in reflective prayer stations. The children put themselves in Jesus' shoes and thought what it would have been like for Jesus in his last week of his life on earth. The prayer stations included; Palm Sunday, Maundy Thursday, The Betrayal and the Crucifixion. The children were encouraged to think about sins they have made and how Jesus gave his life so that he would take away our sins. The children were encouraged to think about the never ending love Jesus has for us all and think of ways how we can be like Jesus too.
Advent
The children from 3/4 prepared for Advent by creating an Advent Wreath and Jesse Tree in class.
Lent Display
During Lent, we thought about how we can give our lives to help others. We listened to Bible scripture relating to Jesus helping others. In one of our lessons we prayed through scripture - Lectio Divina.
Children's Religion Books
On All Saint's Day, the children researched many Saint's and wrote fact files about their favourite Saint.
An example of Lectio Divina is shown, where children use sacred scripture to pray, reflect and explain how the words of Jesus will help them to make changes in their lives.
Big Questions
Big Questions
Holy Rosary
October is the month of The Rosary. During RE lessons the children wrote instructions for Y3/4 to help them learn how to pray The Rosary. They also spent some of their mindfulness time creating beautifully coloured, stained glass windows for their RE displays.
On our final day of the term, UPKS2 took part in different Advent Stations. Each station helped the children to slow down and reflect on the year that they have had and our hopes for the future. The children loved all the activities at each station and the time to reflect at a busy time of year.
Children's Religion Books
The children in Year 5 and 6 studied Mother Teresa gaining an understanding of how she devoted her life to God by the choices she made.
Examples of Lectio Divina are shown, evidence from the children's books show that the children are able to give a point of view around a piece of sacred scripture.