Religious Education
St Edmund's Vision
At St Edmund's God is central and in our hearts helping us to communicate through our words and actions.
All children at St Edmund's are able to talk about the beliefs and values held by the Catholic Church.
We ensure all children become valued members of the community, they are taught to use their teaching of Jesus to respect the beliefs and values of others.
Every child no matter what their ability is able to achieve to their very best.
The Church has always promoted education. God made the world, and everything and everybody in it; and the more we understand the world, its history, and our place in it as human beings, the better equipped we are to increase our faith and hope in God, our love for God and our neighbour, and our love for the Church on earth, in and through which God invites us all to come to know, love and serve him.
Religious Education Curriculum Expectations at St Edmund's
All Year Groups:
To deliver the RECD objectives for the relevant age group through following Come and See.

To cover 2 CARITAS Catholic Social Teaching themes within an academic year which are outlined on the school's long term planner.
To plan and deliver 1/2 other faiths themes across the year using planning from Come and See.

To plan and deliver a universal Church theme using CAFOD resources.
KS1: To plan on a 2 yearly rolling programme to cover all content from the Years 1 and 2 Come and See programmes.
LKS2: To plan on a 2 yearly rolling programme to cover the content from both years 3 and 4 come and See programmes.
UKS2: To plan on a 2 yearly rolling programme to cover the content from both years 5 and 6 come and See programmes.
For a closer look at the scripture shared across our school: Scripture Overview for School
Our GIFT team support our whole-school community to grow in faith and spirituality. The GIFT team this year have been working tremendously hard to lead the school in collective worship. Our closer ties with other schools, such as Christ the King, are thanks to the efforts that the GIFT Team have made in enriching the 'Big Questions' that children explore in each of their Religious Education units. Our GIFT Team also represented the school when visiting Salford Cathedral to reflect on the relics of St. Bernadette.
Our Year 4 children are taking part in their Sacramental Programme, which is the next step on their faith journey towards Reconciliation and First Holy Communion. We are so grateful to all of our school families who are supporting the children at this precious time in our young peoples' lives.
Whole school worship is fundamental to our approach to faith at St. Edmund's. Pupils lead these significant assemblies either through the Gift Team or through class Gospel assemblies: pupil leadership is core to how we engage with our Catholic teachings.
Key Worker Evidence Books
The children in Nursery and Reception record their Religion work in floor books. In their floor books, there is evidence of how the children celebrate the Liturgical Year as well as work relating to 'The Come and See' themes they follow throughout the year.
Performing the Sign of the Cross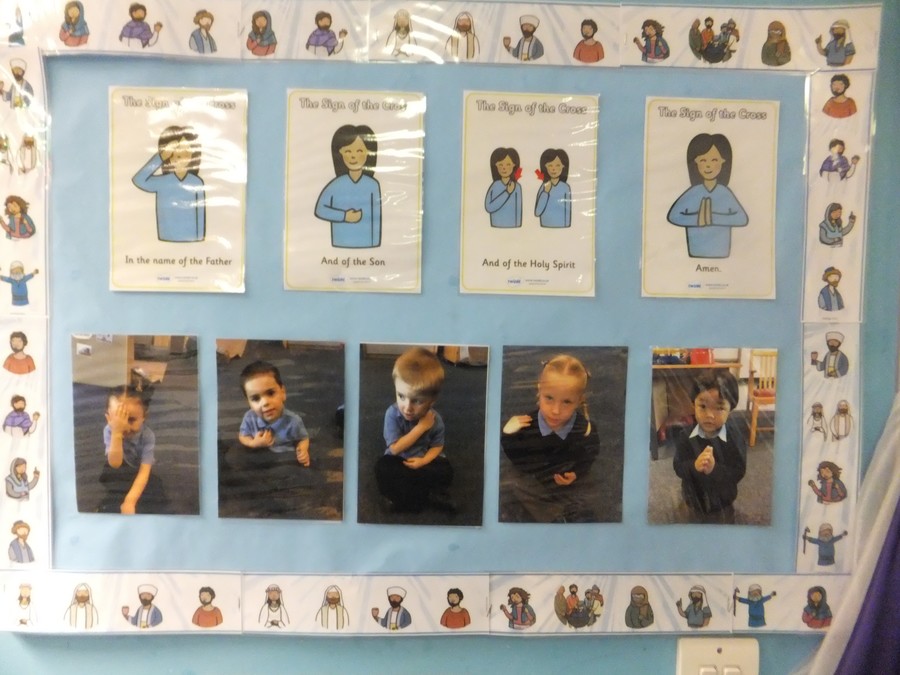 Children's Religion Books
Children's Religion Books
October is the month of The Rosary. During RE lessons the children wrote instructions for Y3/4 to help them learn how to pray The Rosary. They also spent some of their mindfulness time creating beautifully coloured, stained glass windows for their RE displays.
Children's Religion Books
The children in Year 5 and 6 studied Mother Teresa gaining an understanding of how she devoted her life to God by the choices she made.
Examples of Lectio Divina are shown, evidence from the children's books show that the children are able to give a point of view around a piece of sacred scripture.