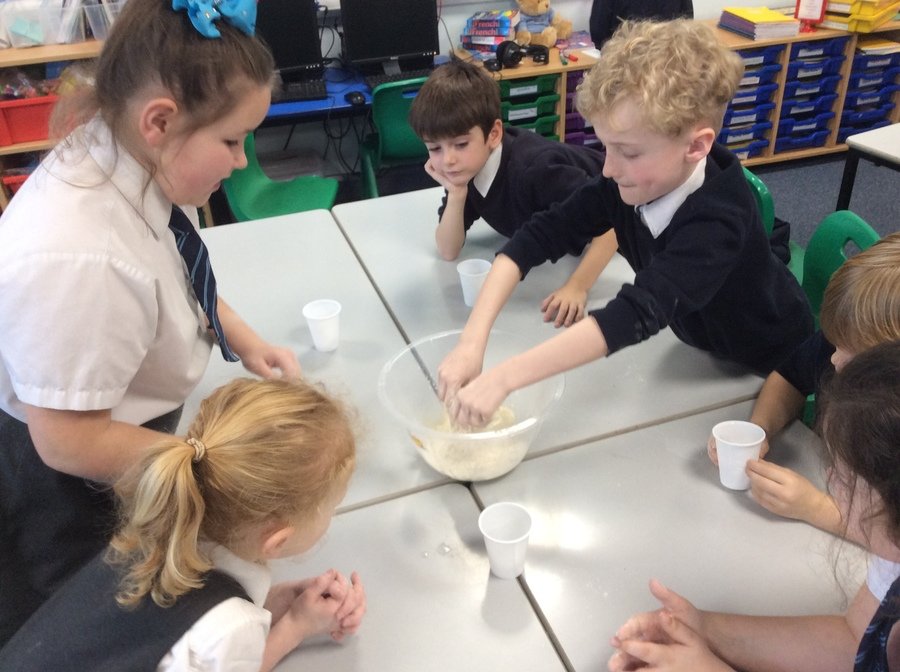 If you would like to know more about the design technology curriculum at St Edmund's, please arrange an appointment with your child's teacher, or alternatively follow links on this page to the statutory information.
KS1 and KS2 complete two/three Design Technology Modules per year.
EYFS
Food Technology: Easter Nests

In EYFS, the children made Easter nests, taking turns to mix the melted chocolate and discussing the change from a solid to a liquid. They helped to count out the two mini eggs to go onto their nests and then enjoyed eating them!
KS1
Mechanisms
This half term our unit is 'wheels and axles'. We started by exploring different types of wheels and how they move. Then we created a mechanism with wheels, an axle and an axle holder.


Lower KS2
Food Technology: Biscuits!
Year 3/4 have researched existing biscuit products which are available in the shops, discussed the taste, texture and appearance of the biscuits and also evaluated the differing styles of packaging used. They have then worked in teams to follow a simple recipe to bake biscuits. Next step, making their own biscuits!


Electrical Systems: Electronic Greeting Cards
In this unit, Year 5/6 explored how circuits can be adapted to suit different purposes, and recreated circuits using adhesive copper tape. They then applied their knowledge to make their own electronic greeting cards.



Food Technology: What could be healthier?
Year 5/6 have been studying a recipe of Bolognese, considering what ingredients would make it healthier. Winning groups with the healthiest recipes were chosen to cook together in teams. The results were some fantastically tasty and healthy adaptions of their studied recipe.
DT Past Projects
Here are some videos of our fantastic past projects!
Year 3/4
Buildings and Structures: Anglo Saxon Houses
Year 5/6 Electrical Systems: Programming Micro:bit Inchworms
KS1
Textiles: Fabric Faces
Year 1/2 Mechanisms: Moving Picture Books
Year 5/6 Mechanical Systems: Automata Animals