Subject Intent
At St Edmund's our Design Technology Curriculum endeavours to develop pupils' creative, technical and practical skills for completing their everyday tasks confidently and successfully. At St Edmund's, we recognise the importance of developing children's communication, which is at the heart of Design Technology when working together, using our ever- developing vocabulary and spoken skills. In Design Technology we provide opportunities for the pupils to develop their skills in designing and making their own prototypes and products. Pupils learn to work together in critiquing, evaluating, testing and comparing their project designs and further develop their communication so that they are able to articulate their views and ideas. This supports every child to become an independent thinker, and to face challenges with perseverance and resilience.
Design technology experiences are used to equip pupils, and support our community, with the skills to operate successfully in the wider world.
KS1 and KS2 complete two/three Design Technology Modules per year.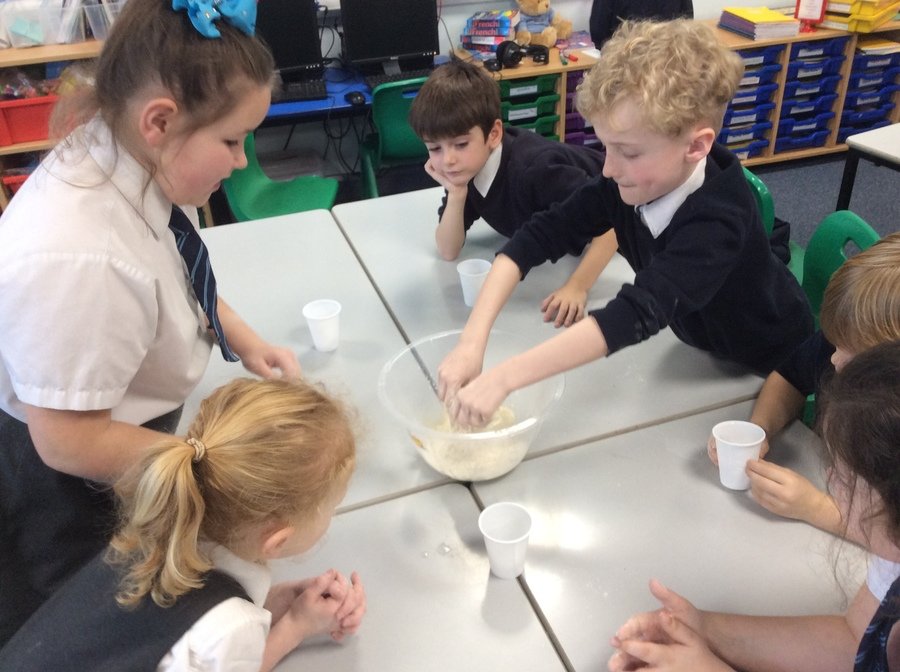 If you would like to know more about the design technology curriculum at St Edmund's, please arrange an appointment with your child's teacher, or alternatively follow links on this page to the statutory information.
EYFS
Food Technology: Easter Nests

In EYFS, the children made Easter nests, taking turns to mix the melted chocolate and discussing the change from a solid to a liquid. They helped to count out the two mini eggs to go onto their nests and then enjoyed eating them!
Textiles: Fabric Faces
In Year 1/2, they have been enjoying creating their own faces, using fabric for the wool and snipping, twisting and plaiting the wool for hair. Then they have used a need and thread to join fabrics with stitching.
Buildings and Structures: Anglo Saxon Houses
Year 3/4 have worked hard to practise skills before creating their own Anglo Saxon Houses. They made tall structures, connected materials, and worked together in groups for their final products.
Well done, they look fantastic!
Mechanical Systems: Automata Animals
In this unit, Year 5/6 created their own appealing, moving mechanical animal models with the plan to captivate people's interest for the WWF charity. They researched different animals' appearances and movements and learned about cams, followers, testing different mechanism types.
Here is a video of their fantastic moving models they made in groups!
DT Past Projects
Here are some videos of our fantastic past projects!
Year 5/6 Electrical Systems: Programming Micro:bit Inchworms
Year 1/2 Mechanisms: Moving Picture Books