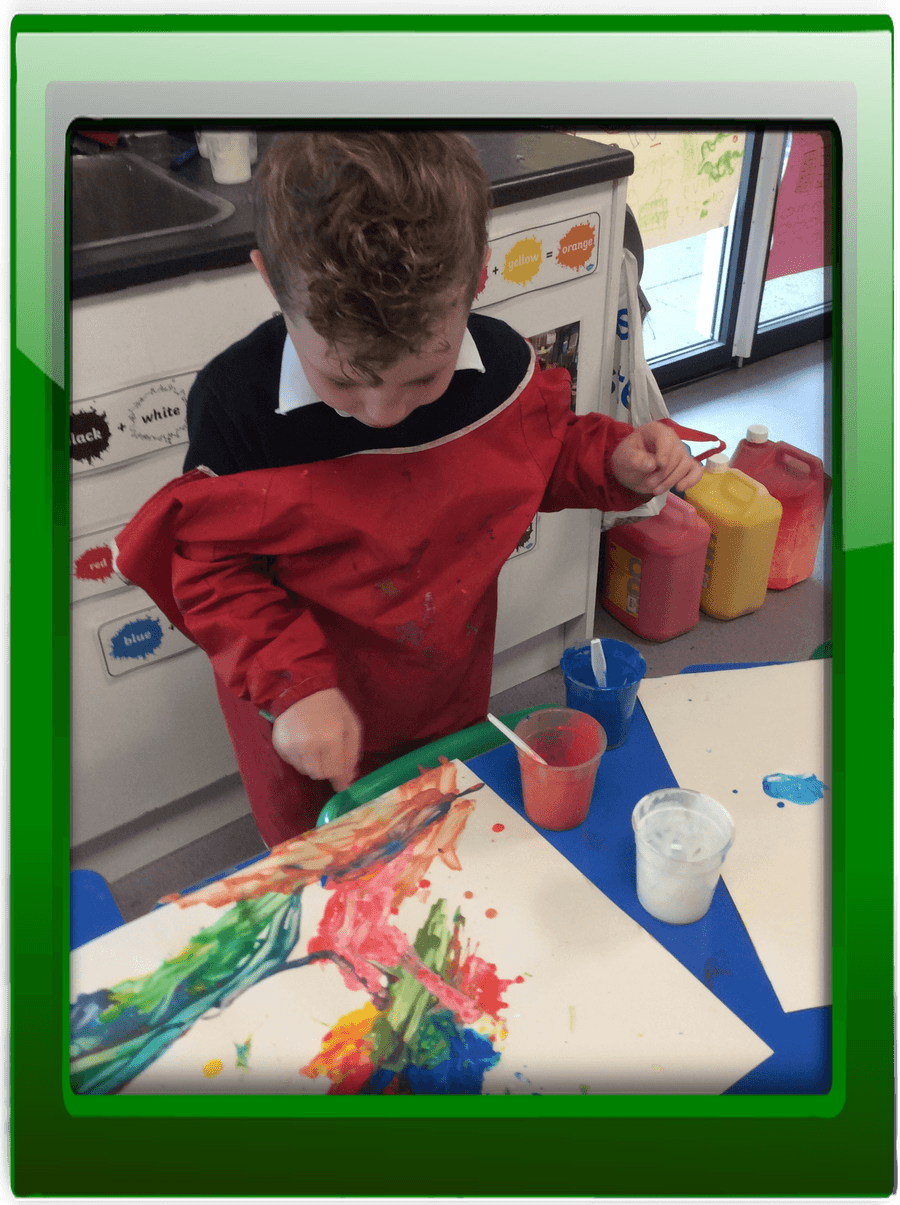 Intent
At St Edmund's we recognise the vital role of art and design in allowing curiosity, creativity and self–expression to develop alongside resilience, confidence and critical thinking skills.
Developing children's communication is at the heart of our school and high priority is given to opportunities for discussion, commentating on what we have seen, and talking through ideas and plans for our own work.
Therefore, as pupils progress, they should be able to think critically and develop a more rigorous understanding of art and design. They should also know how art and design both reflect and shape our history, and contribute to the culture, creativity and wealth of our community.
Pupil Voice: Why do we have art sessions at St Edmund's? "To help us to have the skills to be an artist." Savona "To help us draw and follow our own way." Safia "To give us an opportunity to be creative." Logan "It fills your heart with happiness. You get to do fun things." Miley "You get to expand your imagination." Maja
EYFS
In Nursery we have been using different materials to create our chicks. We looked carefully at the shapes and colours we could see.
As part of our Topic on 'Minibeasts' we decided to paint our favourite minibeast. We looked at photographs to help us to choose the correct colours and show lots of detail.
Everyone was very impressed with our paintings.
In Reception we have been investigating plants. First we looked at the different parts of a flower. Then we talked about the importance of drawing what we could see and looking closely at the different shapes of the leaves and petals. We observed long, thin petals, pointy petals and curved, oval petals. We also spotted that one of the leaves on the tulip was bending down so we reflected this in our drawing.
We used a pencil to sketch our flowers. Then we used oil pastels to colour them. We were very careful to select the correct colours to represent our flowers.
In Reception we have been learning all about Winter.
We created some snowflakes by cutting out and folding a circle shaped piece of paper. We made them look very sparkly with silver glitter!
In art, we have been looking at the paintings of Henri Rousseau. We have learned more techniques for using our pencils to create tone and depth by shading and cross-hatching. We finished off by using watercolour paints to create detailed observational paintings of a still life of a vase of flowers in the style of Rousseau.
Here are some pictures from our Lowry Workshop focussing on the sculptures of Alberto Giacometti. We studied how to observe and draw the basics of the human form by drawing outline shapes to show different movements and emotions. Then we explored proportion when drawing human forms. We learned that Giacometti produced artworks which were 'out of proportion' . We used pipe cleaners to create an 'armature' - an interior structure to base our maquette (practice sculpture) around. We also added clay and foil to complete our maquettes. We were then able to mould their limbs to show different motions. Can you tell what motion they are doing?
Key Stage One
In our sculpture unit we have created our own spider sculptures! We were inspired by the sculpture artist Louise Bourgeois. Team Jade then painted their spider to make it look metal.
We started our sculpture unit of work by exploring the artist Andy Goldsworthy. We looked at examples of his work and then created our own sculptures using natural materials. We sketched our sculptures too!
As part of our Lowry art unit we had a visit from Michelle the artist from The Lowry! We learnt so many new skills such as sketching, making buildings look 3D, smudging and using our artist rubbers!
Upper Key Stage Two
Clay Vases
We developed our control of tools and techniques with play dough in our Vase Sculptures topic, before creating them with clay and then painting them. They look fantastic!