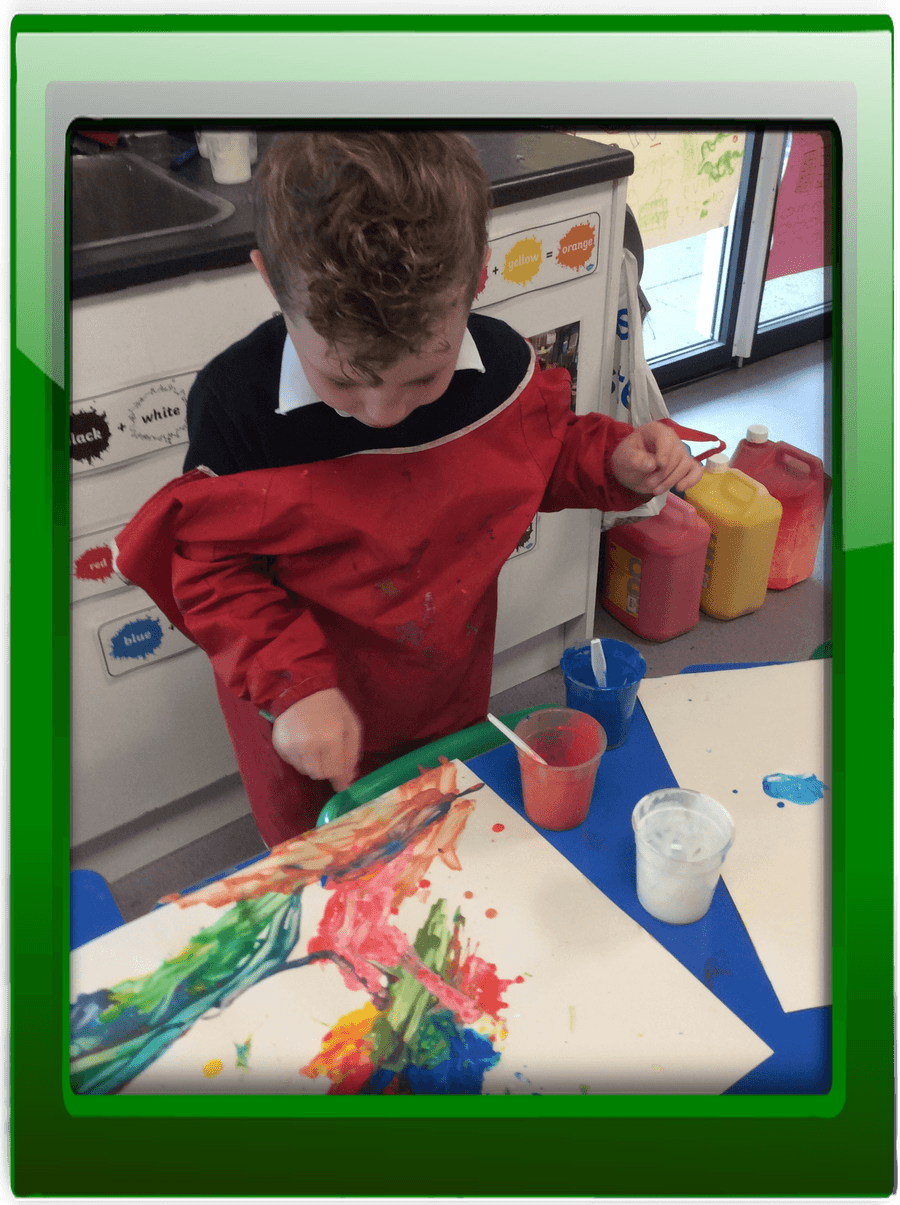 Intent
At St Edmund's we recognise the vital role of art and design in allowing curiosity, creativity and self–expression to develop alongside resilience, confidence and critical thinking skills.
Developing children's communication is at the heart of our school and high priority is given to opportunities for discussion, commentating on what we have seen, and talking through ideas and plans for our own work.
Therefore, as pupils progress, they should be able to think critically and develop a more rigorous understanding of art and design. They should also know how art and design both reflect and shape our history, and contribute to the culture, creativity and wealth of our community.
Pupil Voice: Why do we have art sessions at St Edmund's? "To help us to have the skills to be an artist." Savona "To help us draw and follow our own way." Safia "To give us an opportunity to be creative." Logan "It fills your heart with happiness. You get to do fun things." Miley "You get to expand your imagination." Maja
EYFS
In Nursery we have been doing some observational drawings. We looked carefully at different plants and flowers and tried hard to use the correct colours to represent what we were painting. We used paint and pastels to create our beautiful art work.
In Reception we have been learning all about plants. We looked carefully at tulips, daisies and sunflowers and discussed the different shapes and colours that we could see. We talked about the importance of looking closely at the flower, drawing what we could see and using the correct colours. Then we chose a flower to draw. We used crayons, pencil crayons and pastels to complete our observational drawings. We worked very hard to look carefully at the features of our flower that we were drawing and created some very impressive art work. We were very proud of ourselves!
Junk Modelling
In Reception we have been making some vehicles for our Superhero topic. We used lots of different materials and equipment and had great fun finding different things to make parts of our vehicles. We even created some superhero vehicles at home. They had special powers such as shooting fire and ice and moving under water!
In Reception we have been investigating minibeasts. We have looked closely at them using magnifying glasses outside. We have also been reading the story of 'Superworm' by Julia Donaldson and we have found lots of minibeasts in our story. We decided to paint our favourite minibeast that we found. We also looked at photographs to help us to show lots of detail.
In Reception we have been learning all about Winter. We created a winter collage using a range of materials. Some of us poured glue on our paper and let it drip down to make it look like icicles. We also used salt to make our pictures look icy and frosty. We learnt this technique in art club and then we showed other children what to do.
In Nursery we have been learning all about Chinese New year. We created our own Chinese dragon using a variety of colourful materials. We then drew our own representations of dragons.
In Reception we have been experimenting with mixing different coloured paint together to find out what colours they make. We used straws to blow through and mix the colours together. We also tried tipping our paper to mix the colours and we had lots of fun.
Our Art and Design unit this half term is all about Batik. We are building up to creating a Batik fabric wall hanging. We have been working very hard on our designs and are beginning to transfer them to the fabric. We were amazed when we tried out wax-relief 'magic' painting too!
Lower Key Stage Two combined their art project with their study of the Ancient Romans in History. They looked at the origins of mosaics and studied common patterns and colour combinations. They then experimented with colour mixing, learning about primary and secondary colours and using white to lighten colours to create different shades. They combined this knowledge together to design and create their own mosaic patterns using wooden block printing. These mosaic prints were then tuned into beautiful calendars which were taken home to be shared with their families.
The children in years 3 and 4 have been practising their cross-hatching skills.They then used them to sketch in the peace garden. They also sketched the same object from different angles and perspectives.
Salford Comms Team had a number of old bicycles that they asked children to decorate to become an art installation along the route for the 'Tour of Britain' cycle race through Salford on Saturday 14th September. The Year 6 children used their creativity to decorate their bike with a seaside theme.
Art Club
'Walking With the Snowman'- Snowman Sculpture
The pupils from years 5 and 6 in our Art Club took part in the 'Walking with the Snowman' Festive Art Trail at Media City UK based on Raymond Briggs 'The Snowman'. They decorated a snowman sculpture to be displayed with other sculptures from different schools in Salford. First they researched 'The Twelve Days of Christmas' looking at different designs for each part of the song. They then discussed their ideas for their Snowman sculpture and sketched their own designs. The pupils wanted their design to illustrate a drummer from the song and bring all their ideas together to create a collaborative piece of work. Finally they painted their snowman sculpture using their designs.They were very proud to have it displayed at The Lowry.
Key Stage One
Our Art unit this half term is 'Print'. In KS1 we enjoyed exploring and talking about print today. Inspired by a few artists we started to print ourselves. We used primary colours to press sponges and cardboard to make various prints! We had a great time.
Today we focused on stamping, pressing and rolling. We used lego and created our own stamp from tinfoil. We also mixed secondary colours. It was messy and fun!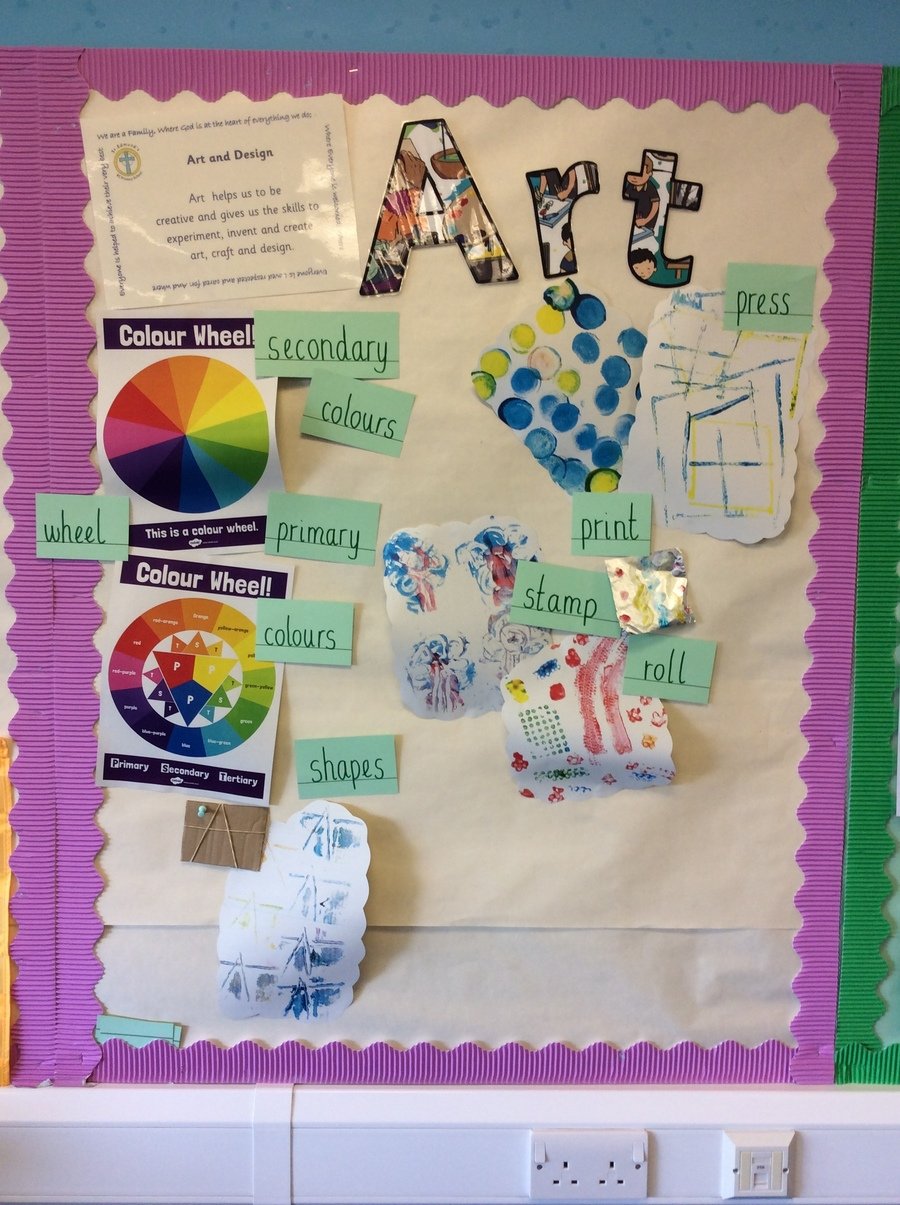 Take a look at our learning journey. We loved this unit!
In Key Stage One we have been learning lots of new skills in Art. We learnt about L.S Lowry's life and the skills and techniques he used to create his pictures.We have explored lines, mixed colours and learnt about perspective.We then used these skills to create a final piece of Art work.
Year 1 & 2 were joined by Michelle this week, an artist from The Lowry, who helped all the children create an individual piece of art work to enter into the 'Copley Art Award'. Michelle helped the children use simple materials to create Salford scenes in the style of LS Lowry. Year 1 & 2 children used lines, dots, hatching, shading, smudging and water to create wonderful pieces of work. It was also a great professional development opportunity for our Key Stage One teachers. Thank you so very much Michelle and The Lowry. Fingers crossed we have a 'Copley Prize' award winner at St Edmund's!
Upper Key Stage Two
We have made excellent progress with our Burgerman-inspired art, using colour blending to add detail. Jon Burgerman is a UK born, NYC based artist instigating improvisation and play through drawing and spectacle.
In Years 5 and 6 we have been extending our knowledge of printing, investigating mono-prints using brusho inks to create the backgrounds!​ We experimented with different media, including oil pastel, watercolour and acrylic inks. To create the prints, we inked smooth surfaces and transferred templates by applying pressure to templates.
Flower Sculptures
We looked at flowers and their petal shapes carefully. We experimented making different petal shapes using pipe cleaners before creating our sculptures using wire, tissue paper, water and glue. After creating all of our petals, we worked really quickly to hold our petals in place and attach using the glue gun. Our creations looked fabulous in the end!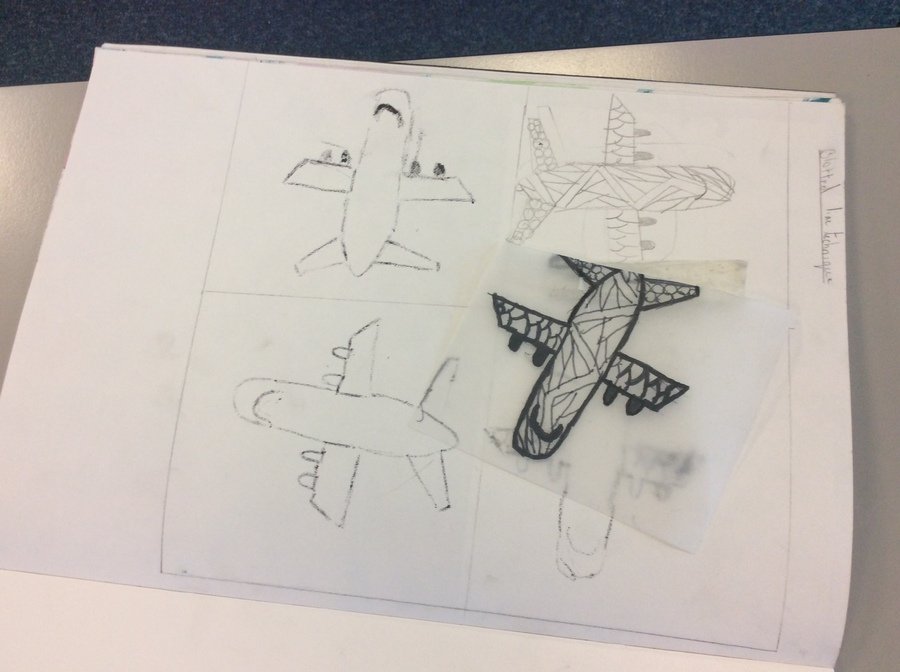 Year 6 have been looking at Andy Warhol's style and technique. They started by learning about his Blotted Line technique. They sketched a design of a chosen object, traced this onto tracing paper and then using an ink pen, carefully went over little sections before blotting it onto the next square.
This transfer of design is building up Year 6 understanding of how Warhol created his artwork and recreated all of his duplicate images. This topic includes practising our drawing and sketching skills to create designs and we will be experimenting with digital media to enhance our final design.
Year 6 looked at digital art using ipads to create their finished photos in the style of Andy Warhol.
Using the app 'keynote' the children took a photo of themselves and a partner, traced around it and then used the 'fill' tool to colour in their digital self-portrait. Using their sketchbook colour squares, they chose 4 colours to complete their portrait.