Anti-Bullying Week & Safer Internet Day 2021

For the week beginning 8th February, St Edmund's children - both at home and in the school bubbles - took part in Anti-Bullying Week and Safer Internet Day.
All of our bubbles and children accessing remote learning in EYFS, KS1 and KS2 spent time completing activities to show an awareness of
Anti-Bullying, and how to be Safe Online.
What did we get up to in school or at home?
Interland: A world of Online Adventures teaching us how to be Internet Sharp and Internet Strong!
Acts of Kindness! Taking the bin out, making beds, doing the dishes and many more!
Internet Legends Activities: Mega Pickers and Kindness Cards!
Tidied her bedroom, shared her sweeties with Mummy and her brother. She also said thank you when Daddy made her dinner.
- Gabby
"In the morning or afternoon I always make coffee for my mum." - Kelsie
Giving hugs to her sister. She's been clearing away her toys up in her room and always saying please and thank you. She also makes her sisters laugh by making funny faces. - Milana
Sent a message to all my friends to tell them to keep smiling.
- Wayne
Gave everyone lots of hugs, shared his mandarin with his brother and drew a picture for mum. - Max
So many messages of acts of kindness were sent in!...
Made a picture for her brother and gave him a hug.
- Alice
Tidied his bedroom and helped mummy feeding puppies and tidying their sleeping box.
- Craig
"I helped my sisters tidy up the toys, made my bed and gave my Mum a nice compliment!"
- Mikhayla
"I will help my mum with the cat and I will helped my sister tidy up crushed up pringles this morning."
- Sophie
Told everyone in her family that she loves them as act of kindness - Tatyana
Act of Kindness and Odd Socks Day!
On Tuesday 9th February (Safer Internet Day), we had Act of Kindness and Odd Socks Day!
Everyone wore odd socks at home and in school to show that: It is ok to be different.
We also set a challenge to do at least one - or many - Acts of Kindnesses today, and to practise being kind to others.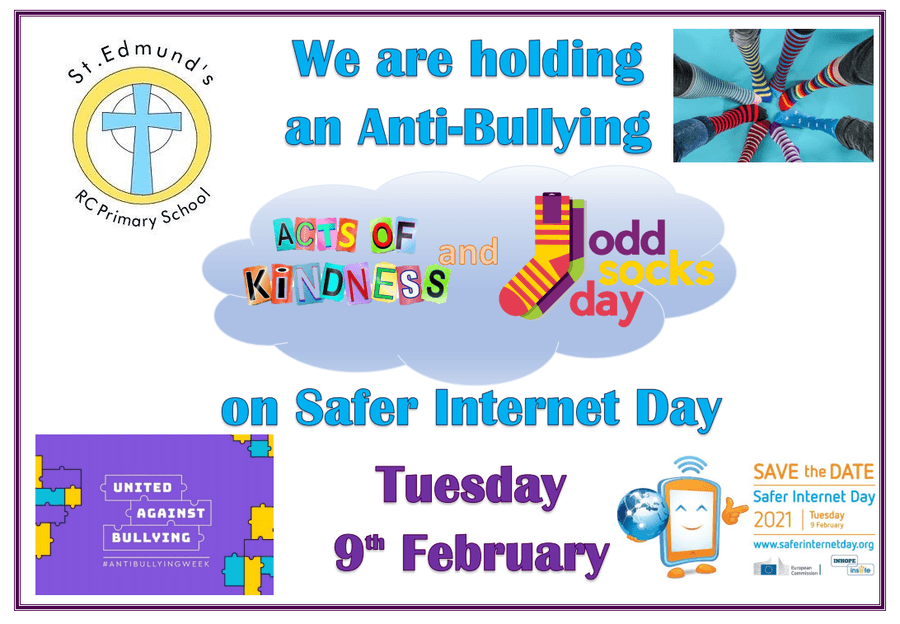 Be Internet Legends Virtual Assembly
On Thursday 8th March (once we were all back in school), KS2 enjoyed a Virtual Assembly from Be Internet Legends, where we learned lots about how to stay safe online. We found out all about the amazing world of INTERLAND, a place which teaches us the skills to be Internet Legends.
For more practice to become an Internet Legends, try Interland at home via this link:
https://beinternetawesome.withgoogle.com/en_us/interland