Welcome to our Year 6 page!
What an amazing group of Year 6s - you will be greatly missed! Have a wonderful summer and make sure to visit to let everyone at St. Edmund's know how well you're settling in to your next big adventure!
We have two class in Year 6 this year:
6JH - Mr Holcroft
6LR - Miss Rogers
PE is on the following days for each class:
Year 6LR - Wednesday & Thursday
Year 6JH - Wednesday & Thursday
Toast is 15p per day - please try to send the correct money.
All children should bring their reading book everyday.
Spellings are sent home on a Monday and will be tested on the following Monday.
Leaf Insects
In Year 6 we now have some leaf insects! We've loved naming them and taking turns holding them.
Welcome to your first flying lesson! This week we took part in quidditch lessons! With seekers, beaters, chasers and keepers, we zipped, zoomed and zapped until we were completely zonked!
"It was magical - I loved it! At one point I felt like I was in the movies. Being the snitch was awesome. When I was on the broom I felt like I was flying. I would recommend it to family and friends. I love quidditch!"
Year 6 received a visit from the Fire Service with a very important message about staying safe near water. They showed us the protective gear they wear when saving people in freezing water, and explained how dangerous water can be. We learned lots, and enjoyed the opportunity to ask the Firemen lots of questions.
Our GIFT team were able to deliver all of the donations from each year group to the Food Bank volunteers. Because of the generosity of so many families at St. Edmund's, people who might otherwise have had to go hungry will be able to access food to feed themselves and their families. Thank you to all those who donated.
Thank you so much to all the parents who were able to come to our Parent Celebration! We have been constructing 3D shapes in our Maths lessons and invited our grown-ups to join us. It took a little while (and some of the next morning) but we were able to combine our tetrahedrons to combine what mathematicians would call a MEGA TETRAHEDRON!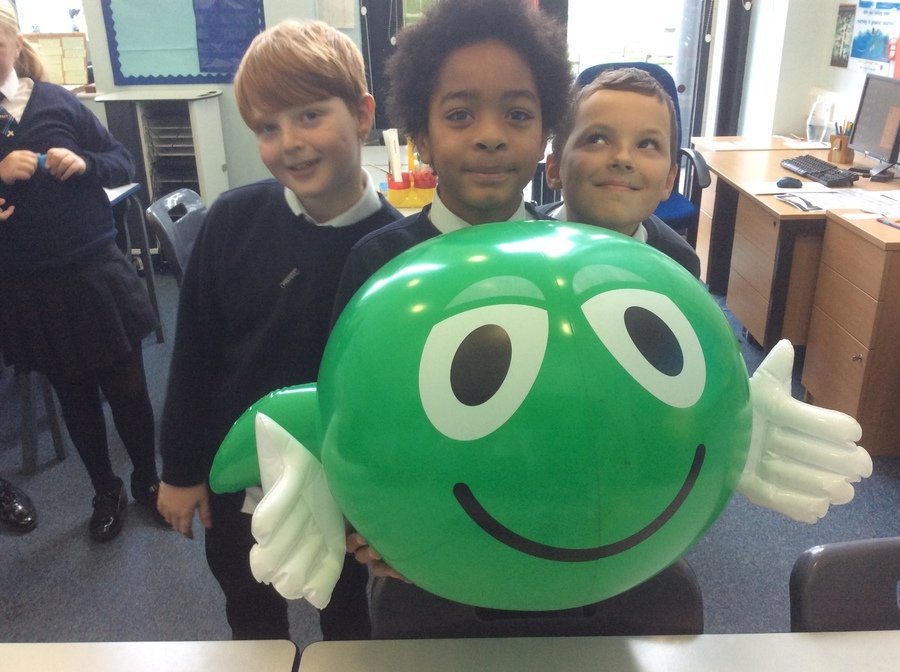 On Tuesday Y6 took part in some important workshops with visitors from the NSPCC. We discussed what we can do to keep ourselves safe and who we can talk to if we feel unsure.
Buddy helped to teach us the Childline number and reminded us that there is always somebody there for us!
Childline: 0800 1111
Thank you to all of those Y6 parents who attended the Y6 SATs briefing this week. If you couldn't make it or require further information the presentation is attached here. It also contains key information about open evenings and application deadlines.
Click the title for the link.
British Values - Democracy
Our theme this week was Democracy - a core part of our British Values. To explore the concept of democracy, we formed political parties who were responsible for debating ways in which we can improve our school.
We developed our ideas into pledges which we presented to our classes. After that, we voted for the pledges we preferred.
Lots of our ideas were about having more choice and responsibility. Our next job is to speak to our elected school councilors to get our voices heard.
European Day of Languages
On Wednesday we celebrated European Day of Languages with the teachers from St. Ambrose Barlow. We took part in lots of taster lessons for many different languages: Italian, German, French, Spanish and even Latin!
We loved getting the chance to take part in so many activities; we also appreciated being able to visit a High School and spot pupils who had graduated from St. Edmund's!
Today was International Day of Peace. The children enjoyed lots of discussion about Peace around the world and the celebration of Peace Day. They then created their own peace poems and created peace artwork, reflecting on how the can spread love and peace around the world. In the afternoon, the GIFT team were joined by Christ the King, a local school, thus fostering the spirit of peace in our local community.