Welcome to our Year 5 page!
We have two classes in Year 5 this year:
5LR - Miss Rogers
5LW - Mr Warburton
PE is on the following days for each class:
Year 5LR - Wednesday and Thursday
Year 5LW - Thursday and Friday
Toast is 15p per day - please try to send the correct money.
In Topic in Spring 1 Year 5 have been researching Ancient Maya. This topic included looking at lots of clues as to why the Maya are important and working out how they lived and things they used to do. We all made our own Maya masks for various events such as religious festivals, 'death masks' and battle masks. Can you guess which event our masks are designed for?
On Thursday 18th January, we had a Mindfulness Day. Throughout the day we did lots of lovely calm and thoughtful activities. We tried out meditation, yoga, discussed laughter and enjoyed many jokes. We also played games with friends, talked about our different emotions and how we deal with them, and even made our own relaxing music on the iPads and made 'mindful' jars with glitter!
On Thursday 21st December we had our Christmas Party. We played party games, ate party food and had a lovely time dancing in the hall with the Reception children. Lots of Year 5s were great role models and looked after the younger children. We also enjoyed watching The Incredibles in the afternoon, ready for our Spring English topic!
This half term we have been reading, analysing, writing and performing lots of poems! Our first published piece personified a chosen emotion, for example, anger, joyfulness, evil. Since then we have focused on creating imagery for a battle scene poem. We loved practising and performing our poems individually and with partners!
As a School we all wore odd socks on Monday 13th November to show our support for Anti-Bullying week. Within this week we learned about different issues and solutions to them. We all wrote advice to stop bullies on leaves to create a class tree of responses. The lovely answers demonstrated Year 5 is full of very kind, thoughtful and caring children.
Year 5 had great fun putting their skills, which they had developed throughout the week, to good use. They measured the perimeter of composite rectilinear shapes and solved their brief of relaying part of the 'worn out' astro turf.
Starting Year 5 - Our First Trip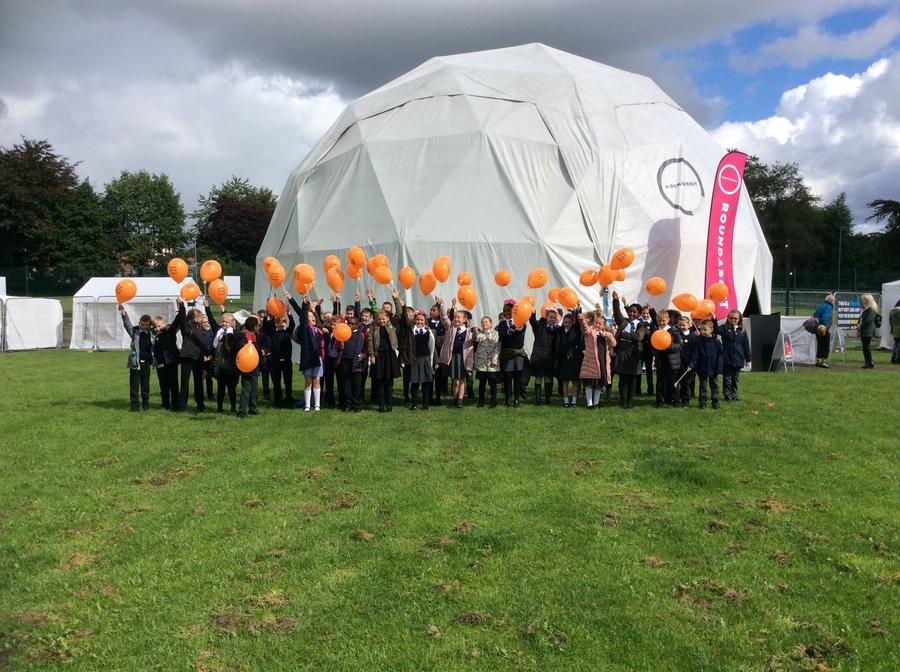 This week we have had a wonderful start to Year 5. We have been really impressed with the children's behaviour, smart uniform and adjustment to Upper Key Stage Two!
On Friday 8th September we were lucky enough to go on the first school trip of the year. We watched the show 'How to be a kid' as part of Roundabout in Peel Park. It was amazing, we all had a great time!
During the Communion Reflection at our Easter Mass on Wednesday 11th April, our lovely Year 5 dancers performed a beautiful dance!
Year 5 had an amazing time on the huge assault cause for Sports Relief! Thank you to all of our sponsors!
Edmund the bear has just joined St Edmund's and started his travels during our 2 weeks focused on World Book Week. When he visited Year 5 he enjoyed Geography in 5LR and a good workout session with 5LW!
Year 5 had a great time celebrating World Book Day on Friday 2nd March (even with the storm Emma reaking havoc!). All the children made a fantastic effort with wonderful costumes and made amazing book marks. Well done to the winners of best dressed and best bookmarks - it was such a hard decision to make!
Thank you very much to everyone who came to our celebration at the end of the half term!
The children produced wonderful Simpson family trees and did excellent demonstrations of the French commands and vocabulary that they have been learning about with Mr Day from St Ambrose Barlow High School.
Our Science Topic this half term is Earth and Space.
This week we learned about Day and Night and created models to demonstrate how this happens because the Earth is rotating daily on its axis.
We also learned about how Seasons are caused because the Earth is orbiting the Sun. We created two earths to show the UK in Winter and the UK in Summer.
This term our English topic is The Incredibles. It has been exciting to base our writing on scenes. Our first job was to remind ourselves of the plot by ordering all of the scenes!
Year 5 have been really busy making different items to sell at our Enterprise sales, and posters to advertise it. We made melted snowmen, hot chocolate kits, reindeer's and even had a 'Guess the name of the dog'! Lots of us jumped on to help run the stall after school and we ended up being completely sold out! We raised lots of money and decided to donate this to Charity.
On Thursday 21st September we celebrated World Peace Day. Over the day we created Peace Poems, Peace Cakes and decorated Peace pebbles to take to the Peace Pole in our prayer garden at school. It was a lovely day filled with lots of exciting, peaceful activities!
Year 5 have got lots on this term with 4 home activities to do each week, we are always busy learning!
Homework Timetable Tasks
Children need to complete one task from the homework timetable each week. This is due in every Monday.
Reading
All children need to bring their reading books into school every day, please encourage reading and sign reading records.
In Year 5 we need to know our times tables by heart and practise them as much possible! Times Tables Rockstars is lots of fun and we can already see an improvement in class!
Spellings
Spellings are sent home on a Tuesday and will be tested on the following Monday.
It is great to see so many children completing so many homework tasks to such a high standard. Lots of wonderful work has been created!
On Science Day Year 5 looked at the important of recycling plastic. We collected all the plastic we used within a week and noticed how much we could try and reduce! We made class collages with messages of how important recycling, reducing and reusing is!
This half term we have been studying the UK and finding about its countries, cities, counties, mountains and rivers.
After researching about mountainous areas and comparing the ground heights, we made our own topographical graphs to show the height of the ground across the UK. We flattened the clay then moulded it into the UK map shape and painted each layer as the height of the land increases.
As part of world smile day Year 5 took lots of smiling selfies!
In topic Year 5 have been learning about all sorts of legacies that the Ancient Greeks left us. They found out about the different, and similar events Ancient Greeks had at their Olympics and created freeze-frames of various events.
Investigating Air Resistance
In Science this half term our topic is Forces. In small groups we made parachutes and investigated what affected the air resistance of them. Some of us changed the shape of our parachutes, some used different materials for each or investigated different lengths of string and parachute thicknesses. To conduct our investigation we dropped our parachutes from Y3/4s balcony and timed their fall back to Y5!