It has been an absolute delight spending time with the children at Lledr Hall this year. They have been brilliantly well-behaved and members of the Lledr staff have not stopped talking about how polite and engaged they all are during the day. At the moment (6:30am) they are all still snoozing, but soon we'll be jumping on the coach and heading back to school. Since there won't be time to upload photographs from today, here are a few extras from talent shows, campfires and celebrating a very grown-up young man's Birthday.
Mr Holcroft's Hooligans
For our final full day of activities our group were joined by Miss Moran as we ventured deep into a Victorian slate mine. Paddling above a flooded section of the mine was surreal and exciting. We learned lots about the working conditions of the mine and how miners would drill into the slate just enough to blast sections of the mine with explosives.
Wednesday
Miss Rogers' Rescuers
On Wednesday we made our way across the Fisherman's Walkway. An exciting trail that ran high above the wall of a gorge.
Mr Holcroft's Hopefuls
Today our little band of warriors slid and slipped our way up and down Lledr Gorge. Escaping into the water was blissful on such a sunny day.
Mrs Butler's Burrowers
Today Mrs Butler lost half a stone through sweat, but found it all again at dinner time. Our trip to the mine was fascinating. Not only did we venture through the pitch-black, we also rowed a boat across a lake inside the mine!
Mrs Fisher's Fortunates
The most frequently asked questions from the first 5 minutes of our 5-mile trek from Betws-y-Coed back to Lledr:
1) Are we nearly there yet?
2)How much further?
3) How many more minutes?
4) Can I have my lunch?
5) What time will we get there?
6) How much further?
.
.
.
.
Tuesday
.
Mr Holcroft's Heroes
We kicked off our first full day of activities with the longest walk of our lives. Starting at Betws-y-Coed, we hiked up to Llyn Elsi, a beautiful reservoir and the perfect place to stop for lunch. One of our excellent map readers took us onto a Roman Road that led all the way back (eventually) to Lledr Hall. Children painted themselves white with sun cream to stay in the sun, however Mr Holcroft is currently lobster coloured. It was still so gorgeous outside that we took a dip in Lledr's lake before getting ourselves ready for dinner.
...
.
.
.
.
Mrs Butler's Barm cakes and Miss Roger's Rogues
Today we walked. It was a long walk. We shared lunch with a robin and we even encountered a slow-worm! We enjoyed bonding together and eating lunch by the lake. When we got back to Lledr, Mrs Frost took us on one of her famous swims in the lake.
.
.
.
.
.
Mrs Butler's Belters
Today our first activity was the Fisherman's Walk. After a short journey in the mini bus we headed down a very steep hill, hooked ourselves up and started our death-defying walk along the very, very narrow ledge. The children even had the opportunity to hang backwards out over the edge. After a long ladder climb back up to the top we had our lunch. In the afternoon we did a gorge walk up the river, which the children enjoyed immensely. Finally, we ended up in the lake outside Lledr for a lovey swim.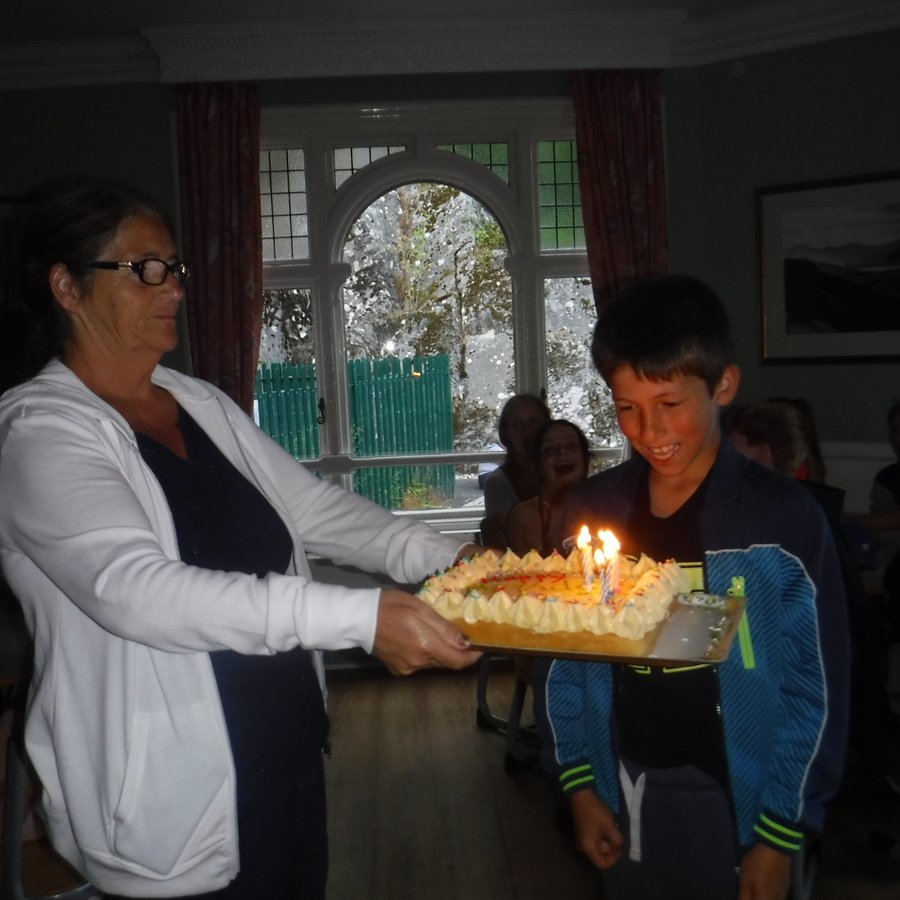 .Mrs Fisher's Fishtails
We were lucky enough to squeeze in two activities today! First we went gorge walking and then we went on the Fisherman's Walkway (or Bacon Trail if you ask Lexie) Diving in the water was perfect on such a hot day and the children have been absolutely incredible. We'd bring them every year if we could!
.
.
.
.
Miss Rogers' Record Breakers and Mrs Fisher's Fanatics.
Today we went out on a whole day adventure to Cwn Dwyfor Slate mine. We started with a walk outside in the sunshine and through a wooded area to the entrance of the mine. Once there, we quickly added extra layers before entering the 'fridge-like' 5 degrees mine. We stopped in an amazing chamber to have our lunch, and experienced total darkness. After that we rowed a paddle boat and climbed carefully around a deep pool. To escape we climbed all the way up to the top level of the mine, before walking back down the steep mountain to the minibuses. Overall, we all definitely preferred the cool temperatures of the slate mine to outside.
We have landed at Lledr Hall. The weather could not have been better as we arrived - it even kept the infamous midges away! Our first day here was all about finding our feet, so as soon as we had finished our lunches we split up into teams to play 'Crack the Code!' The children were tasked with deciphering coded messages that were hidden all around Lledr Hall. Along the way one of our boys lost a wobbly tooth and now faces the near-impossible task of hanging onto it until he can take it home for the English Tooth Fairy. By the time they had finished they were settled in, ready for dinner, and just a little bit sweaty.
After dinner our fantastic Year 5's got to grips with the Jungle Gym and the Nightline. The Jungle Gym had a series of tricky obstacles requiring perseverance and teamwork to get past. Everybody had a brilliant time and seeing everybody cooperate so well felt like a brilliant start. The Nightline has a similar set of obstacles, but for this challenge children navigated their way whilst blindfolded!
Tomorrow we're looking forward to being put into our groups, eating mountains of food and adventuring offsite. The internet here is s l o w, but updates should be a little smoother now that everything is set up. Stay tuned!